Look at the following headlines that came out on Nov 30, 2013 and Dec 6, 2013 respectively.
http://profit.ndtv.com/news/industries/article-ratan-tata-says-calling-nano-the-cheapest-car-was-a-mistake-373603#! under the heading "Ratan Tata says calling Nano the 'cheapest car' was a mistake".
In which it is reported as follows: "It became termed as a cheapest car by the public and, I am sorry to say, by ourselves, not by me, but the company when it was marketing it. I think that is unfortunate," Mr Tata told a news channel about the group's subsidiary Tata Motors' small car.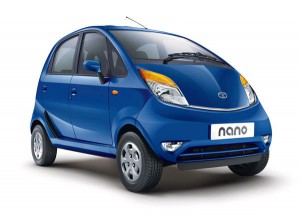 http://www.cartrade.com/car-bike-news/tata-nano-declared-as-most-trusted-brand-in-india-study-2013-122508.html
The above news article says that Tata Nano has been crowned as the 'Most Trusted Brand' in The Brand Trust Report, India Study-2013, released by Trust Research Advisory (TRA). The report lists 1,100 most trusted brands from 211 categories from among the 19,000 brands. The report has recognised Tata Nano as India's most attractive brand and most trusted brand in the hatchback category.
In the working paper that can be accessed here published in December 2012, http://www.tuhh.de/tim/downloads/arbeitspapiere/Working_Paper_72.pdf , under the title "Open Global Innovation Networks as Enablers of Frugal Innovation: Propositions Based on Evidence from India", by Dr. Rajnish Tiwari and Dr. Cornelius Herstatt at the Hamburg University of Technology, we get to read about the background and how the car came to be from idea to implementation to design to commercialisation.
The Tata Nano, with an initial market introduction price of Rs. 100,000 (approx. 1,400 Euros), is widely regarded as the cheapest car of the world. Launched by Tata Motors Ltd. (TML) amid much fanfare in March 2009,the Nano concept car was first unveiled in January 2008 at Delhi AutoExpo. The driving idea behind the Nano has been group chief Ratan Tata's vision of providing a safe and comfortable medium of transport to millions of Indian families that use two-wheeled vehicles to travel with their family (spouse and children) of 4-5 persons under extreme weather conditions in summer, winter and during monsoon.
With the Tata Nano, meeting the price target set by Ratan Tata meant the design team had to start from scratch. A key strategy was to 'de–feature' unnecessary attributes – to the extent of providing only one wing mirror and only three wheel nuts per wheel. Yet this simplification was in fact a very complex operation. The car is the product of a considerable global network of relationships.
Tata Motors worked with Bosch of Germany to develop a new engine management system; Italy's I.DE.A Institute and Trilix for styling and interior design; India's Sona Koyo for lightweight steering shafts; Johnson Controls of the USA for the seating system; Japan's Toyo for the engine cooling module; Germany's Behr for the heating, ventilating and air conditioning system; and India's Madras rubber factory for tough rear tyres. Innovation throughout this international supply chain was essential to achieving the Nano's cost target.
Post-launch, the Nano has been however widely perceived to have failed in the market. Its sales were marred by safety concerns generated due to some isolate incidences of the vehicles catching fire and the stigma of being "the cheapest car on the block". Nevertheless, objectively speaking, the Nano cannot be regarded a failure, even though its sales figures have not yet satisfied the forecasts by marketing pundits and enormous expectations of various stakeholders.
Data by Society of Indian Automobile Manufacturers (SIAM) reveal that the launch of the Tata Nano has actually succeeded in arresting the slip in the market share of India's mini-sized cars (length not exceeding 3,400 mm).
TML's top management decided to implement "concurrent engineering in real time" by integrating component suppliers very early on in the process of product development and about 800 component suppliers were approached. Rather than providing them with pre-defined technical specifications, TML extended an invitation to contribute their own ideas for this unique project. About 70-80% of the suppliers decided to participate in the product development process. TML also tapped suppliers of two- wheelers in order to identify possible analogies and synergies. In a significant departure from the norm, more than half of all the components sourced were allowed to be developed as proprietary technology of the respective supplier to enable tapping of other sources of revenue and thus further reduce costs. Companies like Bosch have already made use of this opportunity by transferring components to other carmakers.
Apart from Bosch, several domestic and global suppliers, such as Continental AG, Denso, Sona Group and Tata Johnson Controls Automotive contributed to the Nano project with their own radical innovations. Final touches to the car were given by Italy's renowned Institute of Development in Automotive Engineering (I.D.E.A.). According to TML's Annual Report for FY 2010-11, technology for development and application of a two cylinder common-rail diesel engine for small passenger cars (and small commercial vehicles) was imported from overseas. Similarly, technology for "[d]esign and [d]evelopment of [i]nfinitely variable transmission based on full toroidal traction-drive variators for various vehicle platforms" has been imported.
TML also established a European Technical Centre in UK in 2005. This centre is entrusted with the task of providing "[e]uropean and international standards of delivery to the company's passenger and light commercial vehicles". For keeping the production cost low, important suppliers have been co-located in the vicinity of the manufacturing plant to reduce inventory and logistics costs.
My conclusions on what has happened with the TATA Nano so far is that it was a bold vision that will translate into rewards maybe not fully realised with the Nano but will be reaped by TATA company and other Frugal Innovators. Just make sure your product is not labeled "cheap". Market it differently by telling the customer that they are getting a grand bargain for such a great product with so many awesome qualities.